I currently cannot contain my excitement in the office of my "day job", because next week I'm going to Download Festival! I haven't been since 2012(!!),  but it used to be my every summer festival of choice! I'm a rock girl at heart and this festival was my home for 6 years. There's nothing quite like the family feeling of the Download crew, and I'm looking forward to getting nostalgic to my past festival years, but also discovering new music! The Download bill is spilling over with the best of old and new rock talent, and I am certain I will be running between stages trying to fit in as much as possible.
So with a few short days til the festival begins on the 8th June (even earlier if you're doing 5 day camping!) I thought I'd put together a short list of my absolute must see bands (not including the headliners!) playing this year's Download Festival. As you know, I never like to just put forward my own musical taste, so I've also asked for some suggestions from seasoned Downloaders on the festival's very active Facebook group.
Firstly, here's the Download Festival 2018 Line Up Poster: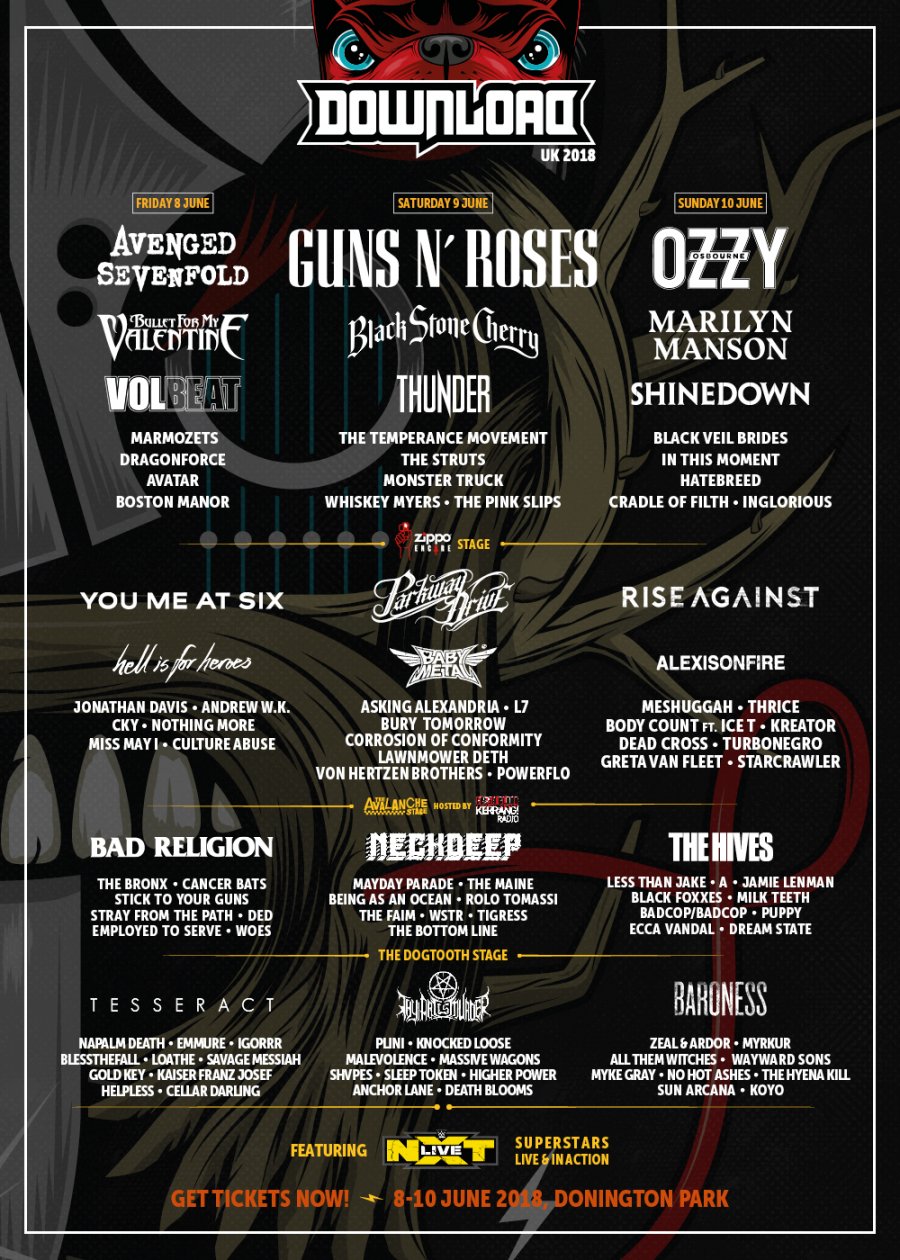 Without further ado…
My Download Festival must-see bands:
The Temperance Movement – This British blues rock band are going to be absolutely spectacular on the main stage. A friend of mine dragged me to one of their gigs in North London a few years back, and they have been one of my favourite recent discoveries. I'm obsessed with their self titled album. Listen to "Only Friend", and then I'll see you on Saturday afternoon down the front 😉
Whiskey Myers – If you like Black Stone Cherry, you'll love Whiskey Myers. They're Southern style rock with big riffs. I've never seen them live and am really looking forward to it!
The Hives – Some people may wonder why The Hives are on the line up, but I honestly implore you to go see them. The lead singer, Howlin' Pelle, is one of the top frontmen I've ever seen, and despite some of their songs being more Radio 1 than Metal Hammer, their live show is super energetic and much more rock than pop. They will surprise you!
Napalm Death – if you like it heavy the Napalm Death will quench your thirst. This metal/grindcore band have been around since 1981 and are still serious performers. I can't wait to get down the front for these guys, though I'll have to be careful I don't get a black eye in the mosh pit (or maybe I'll wear it with pride).
Rise Against – I'll be honest, I really need to do my homework before next week before I see Rise Against again. I know their albums "Siren Song of Counter Culture" and "Revolutions Per Minute" off by heart, but I have not kept up to date with their albums very well, and haven't even listened once to their 2017 "Wolves" album. However I do know that they are incredible live having seen them several times. Their modern high energy American punk will have you headbanging.
From experience watching Turbonegro is one of the best things you'll ever see. The energy is immense… bring denim and a towel.

Thrice are one of my favourite bands and put on an insanely good show. Dustin's voice is a wonder – perfect clean vocals all the way through to deep screams. Such a fun band to watch.

– Nik McMahon

For me I'd say The Struts. One of my favourite bands right now. They played the 4th stage back in 2015 and are now playing the first stage this year. They aren't as big over here, despite being a British band, but they've gotten really big over in the US, having toured with The Rolling Stones, Guns n Roses and Foo Fighters!

–  Mark Carnochan

Dream State are gonna be massive!! New EP released recently then they played the Breakout Stage at Slam Dunk last week, before they play on the Avalanche Stage!! Definitely looking forward to them.
See you in a few short days Download!
If you see me, be sure to say hi!